Nothing says summer like fresh watermelon. This Summer Watermelon Salad is the perfect side for the summer bbq or a light lunch. It is fresh, crisp and full flavor. The sweet, juicy watemelon meets the salty feta cheese, the peppery arugula and to top it all off, the pickled red onion!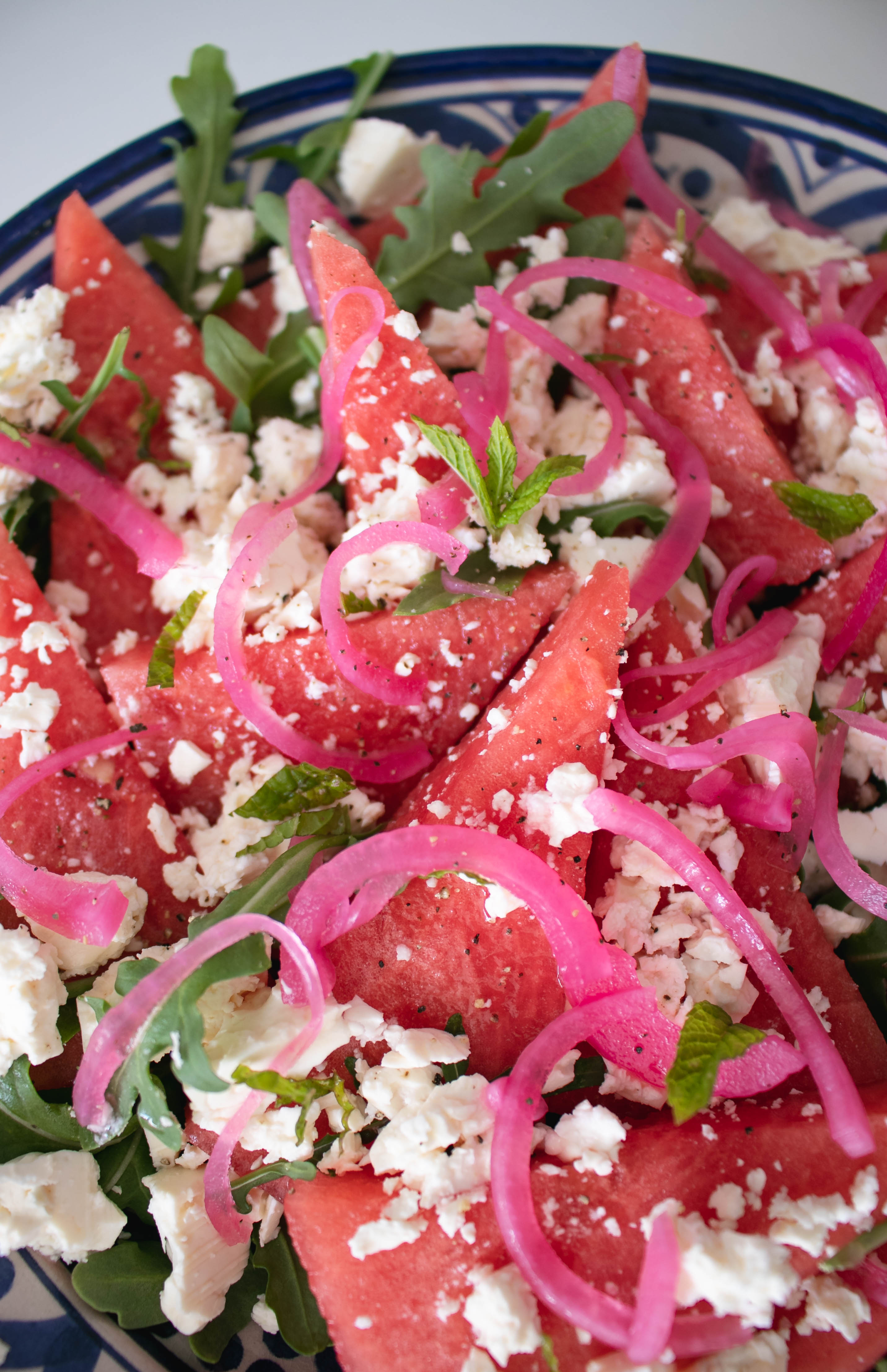 This recipe makes 2 large salads, 4 side salads or feeds 6-8 at a buffet. You can easily double this recipe to feed a large crowd at a summer party.
Here are a few tips for choosing the perfect, crisp and juicy watermelon.
The watermelon should be heavy for its size, this means it will be juicy. Also look for a melon with a uniform, round shape and there should be a creamy, yellow spot on the rind where the watermelon ripened on the ground. This yellow spot ensures that it will be perfectly ripe. You can also knock on the melon, what you want to hear is a hollow sound.
If you try this Summer Watermelon Salad recipe, let me know what you think by leaving a comment, rating, and tagging me in your picture on Instagram.
You might also like my Raf Tomato and Burrata Cheese Salad
Enjoy!
Summer Watermelon Salad
Ingredients
½

small watermelon, chilled, rind removed and cut into chunks

200 g

feta cheese

arugula

1 deciliter

0,4 cups

pickled red onion

1

tablespoon

mint leaves, chopped

salt and pepper to taste
Instructions
Place the arugula on a large serving platter. Add the watermelon, crumb the feta cheese and top with the pickled onion and mint leaves. Salt and pepper to taste. Serve chilled.