Cool off in the summer heat with these beautiful and refreshing Watermelon popsicles! A healthy and all natural option to the sugar filled popsicles. Made with only 3 ingredients, watermelon, yoghurt and kiwi. Nothing else needed!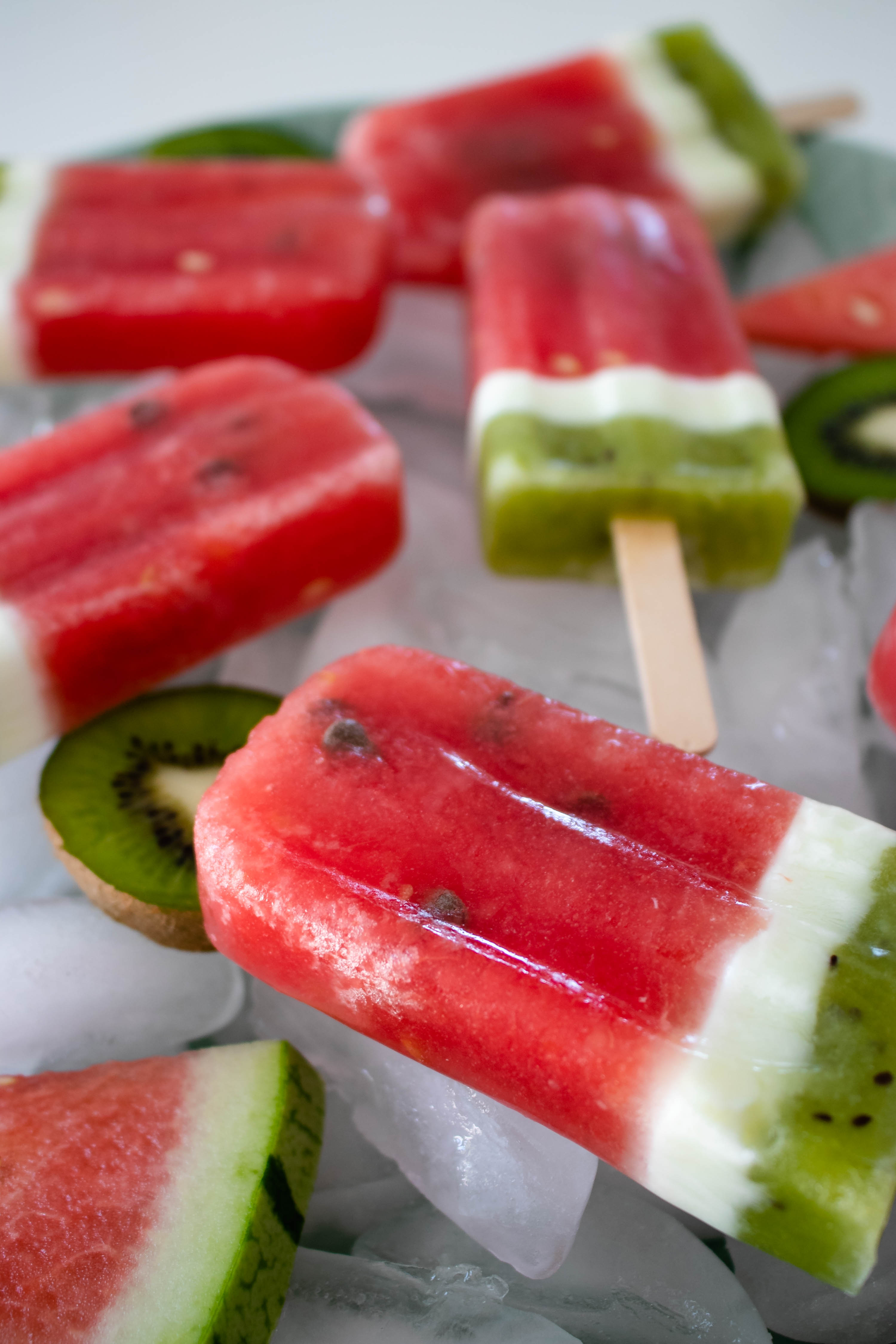 These popsicles are easy to make and the prep is fast, you just have to be a little patient with the time in the freezer to create the different layers. It is worth it to create these beautiful showstopper popsicles!
I made them for my daughters birthday and they were a big hit with all the kids and my kids loved helping making them too. They are already requesting new flavors and volunteering to taste test all of them!
For another refreshing summer treat try Cherry Banana Nice Cream and Strawberry Banana Smoothie
I would love to hear from you! Let me know what you think by leaving a comment, rating, and tagging me at @thedeliciousplate in your picture on Instagram.
Stay cool in the summer heat!
Watermelon popsicles
Ingredients
600

g

seedless watermelon, rind removed and cut into chunks

5-6

kiwis, peeled and cut in chunks

120

g

yoghurt of your choice

2

tablespoon

chocolate chips, optional
Instructions
Pure the watermelon in a food processor. If there are some small seeds you can strain the mixture, I left them in.

Fill the watermelon pure in 10 ice cream molds, abut ⅔ of the way. Try to keep the sides as clean as possible to make sharp lines for the different layers. Add a few chocolate chips to each mold (optional) Insert the popsicle sticks and stir gently in you added chocolate chips. Cover and freeze for 2 hours until set.

Take the popsicles out of the freezer and add about 2 teaspoons yoghurt to each mold. Again try to keep the sides of the mold clean. Gently tap the ice cream mold on the counter after adding the yoghurt to form an even layer of yoghurt. Cover and freeze for 30 minutes until set.

While the popsicles are in the freezer, puree the kiwi in the food processor. Store in the fridge until ready to use.

Take the popsicles out of the freezer and add the final kiwi layer, all the way to the top of the mold. Tap it gently on the counter to make the kiwi layer even. Cover and freeze for a minimum of 3 hours, preferably over night.

To remove the popsicles from the molds, run the sides of the mold under warm water. Be careful not to get any water into the mold.

Enjoy!