If you are looking for an easy, quick, healthy and delicious lunch this Chickpea Avocado Salad Sandwich recipe ticks all those boxes! If you like avocado and chickpeas, then you are going to love this yummy, vegan sandwich.
The Chickpea Avocado Salad is super simple to make and ready in just 10 minutes using only 6 ingredients. Get a can of chickpeas, an avocado, half a lime and shallot, salt and pepper. Mash it up with a fork and you are done!
No need to add mayo with the creaminess of the mashed avocado which makes this recipe super healthy.
Use your favorite bread, a nice sourdough or whole grain bread would taste excellent with the Chickpea Avocado Salad. Top your salad with some pickled red onion and peppery arugula and you are good to go.
Chickpea Avocado Salad Sandwich makes a great packed lunch for work or a picnic. If you're looking for an easy lunch that you can feel good about, this is recipe is it!
For more healthy foods, check my vegan and healthy recipes.
If you try this Chickpea Avocado Salad Sandwich recipe, let me know what you think by leaving a comment, rating, and tagging me in your picture on Instagram.
Happy cooking!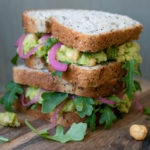 Chickpea Avocado Salad Sandwich
Ingredients
1

avocado

2,5 deciliter,

1 cup,

canned chickpeas, drained

½

small shallot, minced

2-3

tbs

lime juice

salt and pepper to taste

2

bread slices

arugula and pickled red onion for serving
Instructions
Place the avocado in a bowl and mash it with a fork until mushy with some lumps left. Add the chickpeas and shallot and mash with fork to desired consistency. Season with salt, pepper and lemon juice to taste.

To assemble the sandwich, layer the bottom slice with arugula and the chickpea salad. Top with pickled red onion and greens more arugula to your taste. Add top slice to the sandwich, cut in half or eat as is..