These Healthier Chocolate Peanut Butter Rice Krispie Treats are made without any marshmallows or butter and tastes amazing! My kids went back to school this week and that deserves a treat and this is the perfect thing.
Using Peanuts butter and honey or maple syrup makes them healthier then normal rice crispy treats filled with refined sugar, and I think they taste even better! They are gluten free and if you want to make them vegan, simply use vegan chocolate for the toping.
It is also nice that this recipe is no bake since we still have temperatures around 30 C here in Spain. Eating these cold out of the fridge is like a dream come true when the kids come home from school.
I have made a chocolate layer and then a peanut layer. I really like the layered look but you can also skip this step and mix everything together for one layer if you prefer. I am just into layers and contrasts lately in my cooking. It is so much fun and ads another dimension in your food. Do you like experimenting and having fun with you recipes?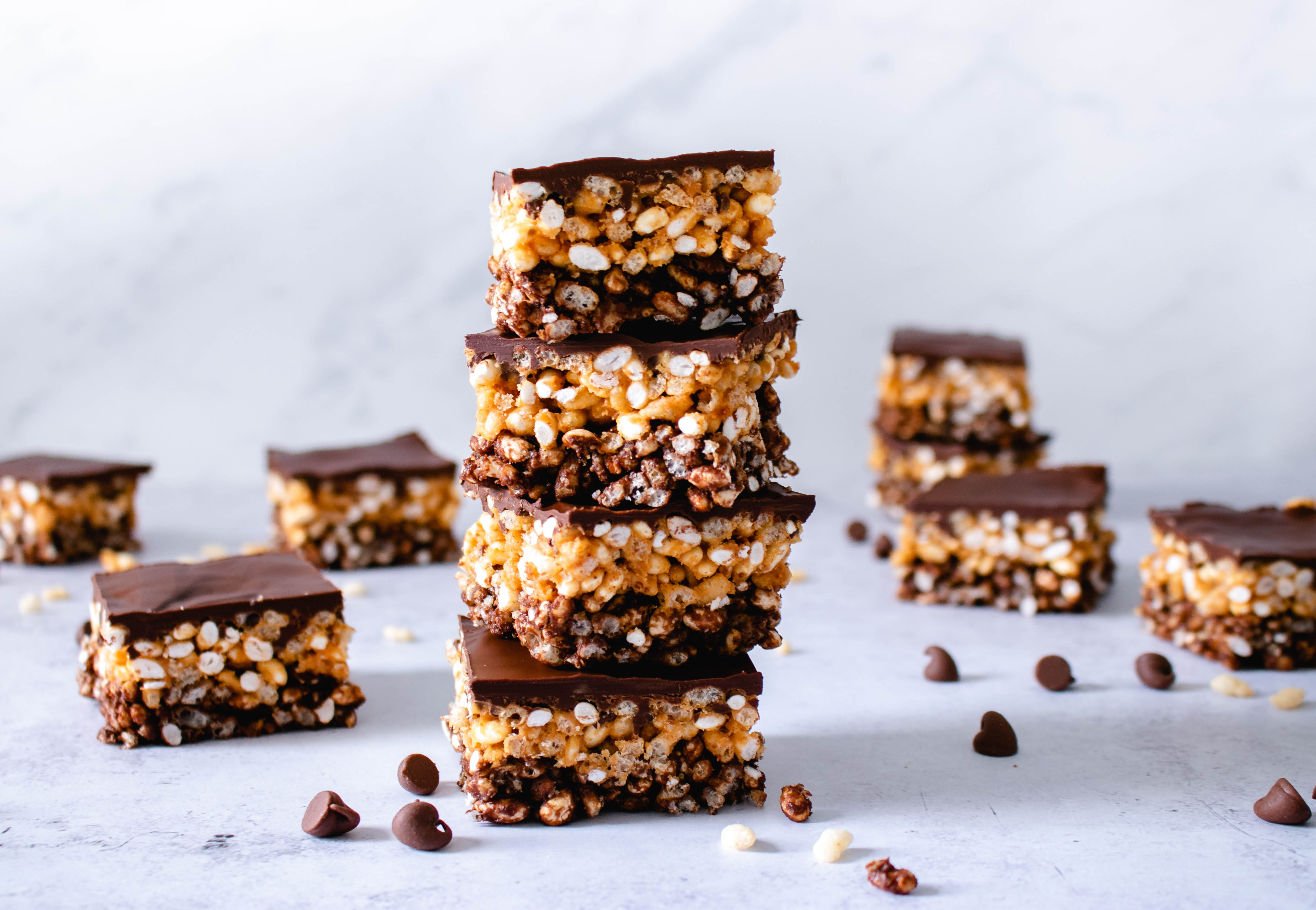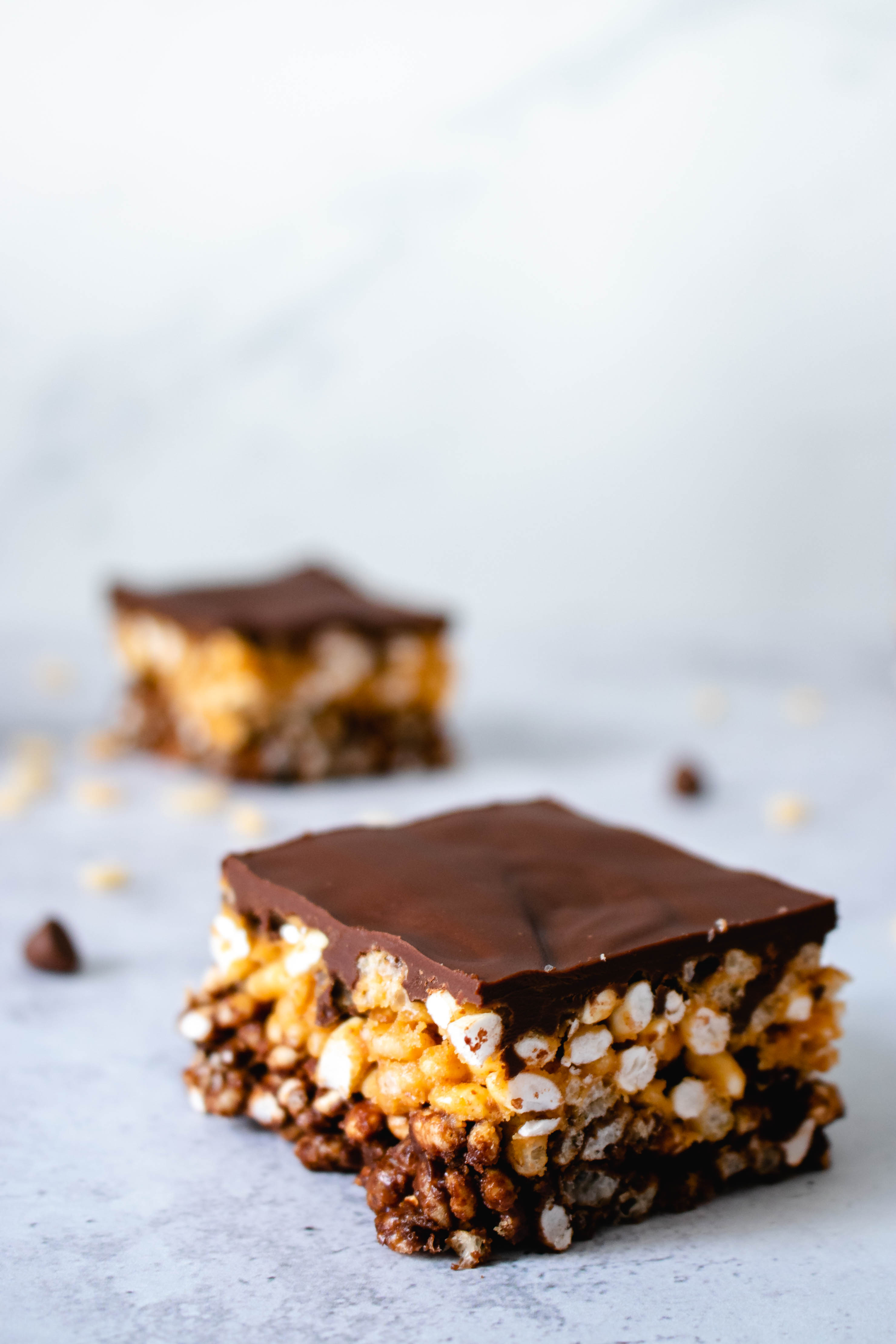 I hope you give this recipe a try and enjoy it as much as I do!
You might also like my healthier Homemade Peanut Butter Cups
I would love to hear from you! Let me know what you think by leaving a comment, rating, and tagging me at @thedeliciousplate in your picture on Instagram.
Happy cooking!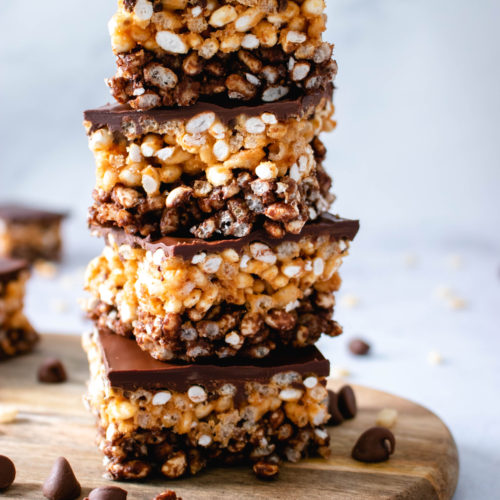 Healthy Peanut Butter Rice Krispie Treats
Ingredients
Chocolate layer
1 ¼ deciliter/

½ cup/

peanut butter

4 tbsp

honey or maple syrup

2

tablespoon

cacao powder

7 dl/

3 cups/

puffed rice or crispy rice cereal
Peanut layer
1 ¼ deciliter/

½ cup/

peanut butter

4 tbsp

honey or maple syrup

7 dl/

3 cups/

puffed rice or crispy rice cereal
Topping (optional)
300

g

dark chocolate (use vegan chocolate for a vegan recipe)

1

tablespoon

coconut oil
Instructions
Chocolate layer
In a microwave safe large bowl add the peanut butter and honey and microwave on high for 30 seconds. Stir until well combined, microwave for an additional 30 seconds if needed. Stir in the cacao powder and then the rice cereal until well coated.

Line a pan 20x20cm (8x8) with plastic wrap and spread the chocolate mixture evenly in the pan, push down lightly to make an even layer.
Peanut layer
Repeat the steps for the chocolate layer minus the cocoa powder. Spread the peanut layer on top of the chocolate layer to an even layer.
Topping (Optional)
Melt the chocolate and coconut oil in the microwave for 30 seconds intervals until melted. Stir after every 30 seconds.

Spread out in an even layer and place in the fridge for at least an hour to set.

Cut in squares and enjoy!