I love peaches when they are in season, so sweet and juicy. In this Honey Roasted Peach Toast recipe the peaches are slowly roasted in the oven with a little honey.
Peaches are full of health benefits. A great source of fiber, potassium and vitamins A and C. They are also low in calories and full of natural sweetness.
So how do you pick a ripe peach?
Follow your nose, a sweet-smelling peach is usually ripe and juicy, full of flavour.
Sometimes all you can get in the produce section are very firm peaches that aren't really pipe. No problem, just leave them out on the counter for a few days. Until they are a little softer and sweet smelling.
When your peaches are ripe, store them in the fridge to slow down the ripening process and keep them fresh for longer.
Ingredients needed to make this Honey Roasted Peach Toast:
Peaches, choose a ripe and juicy peach
Honey, can also be substituted with maple syrup for a vegan recipe.
Greek yoghurt, a thick variety that is full fat and unsweetened. To make this toast vegan, use a vegan greek style yogurt
Black berries for a contrast in flavour and colour. You can also substitute for blueberries.
Slivered almonds, can be substituted with pecans, walnuts or pistachios. If you are allergic to nuts some crunchy seeds or granola can also be added instead of the nuts.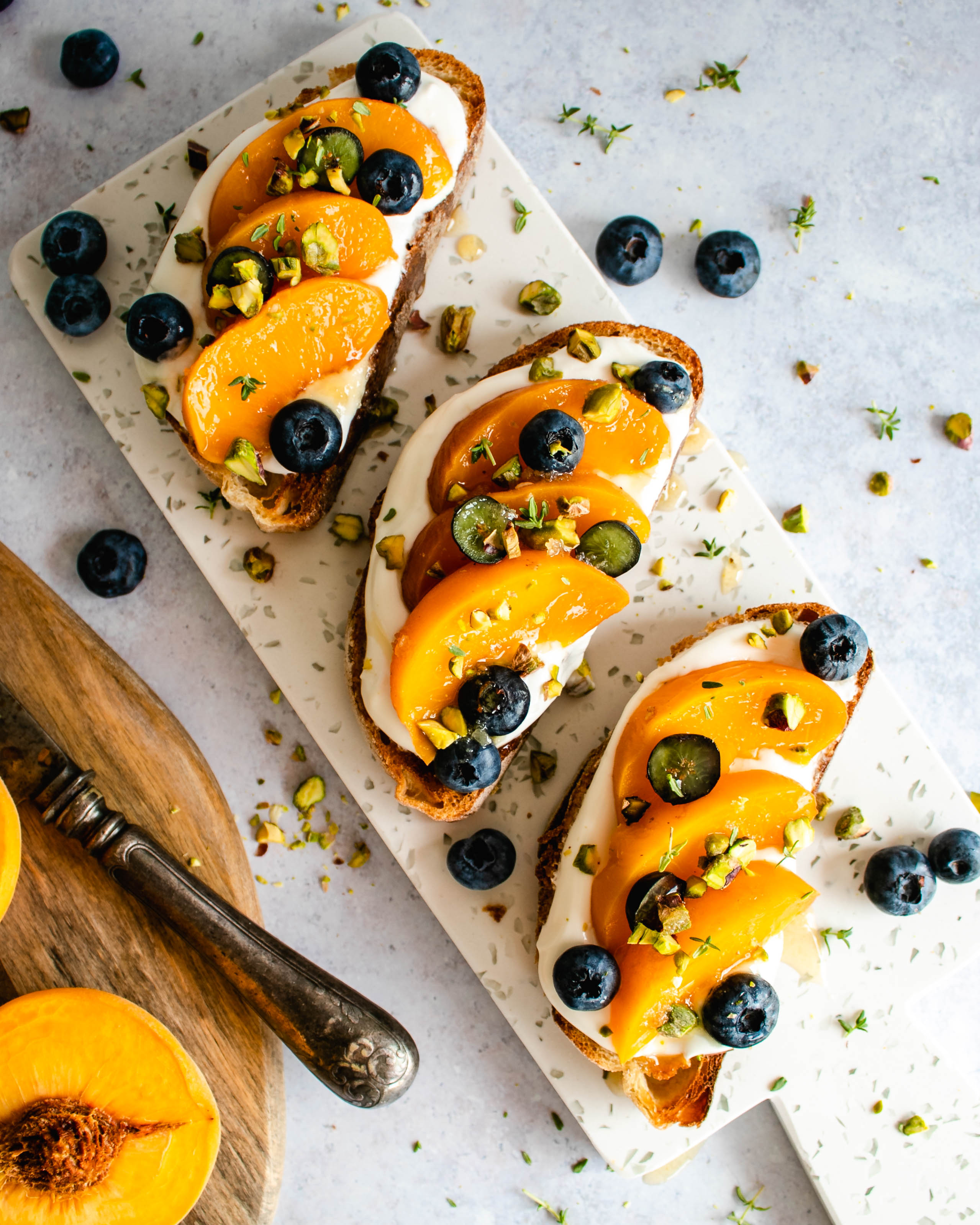 If you like this Honey Roasted Peach Toast, HERE ARE SOME MORE RECIPES YOU MIGHT LIKE:
Easy Dutch Oven Cranberry Walnut Bread
Healthy Salted Caramel Granola
Mulitseed No-Knead Dutch Oven Bread
Chocolate, Banana and Hazelnut Chia Pudding
Healthy Strawberry crumble bars (Vegan and Gluten free)
I would love to hear from you! Let me know what you think by leaving a comment, rating, and tagging me at @thedeliciousplate in your picture on Instagram.
Happy cooking!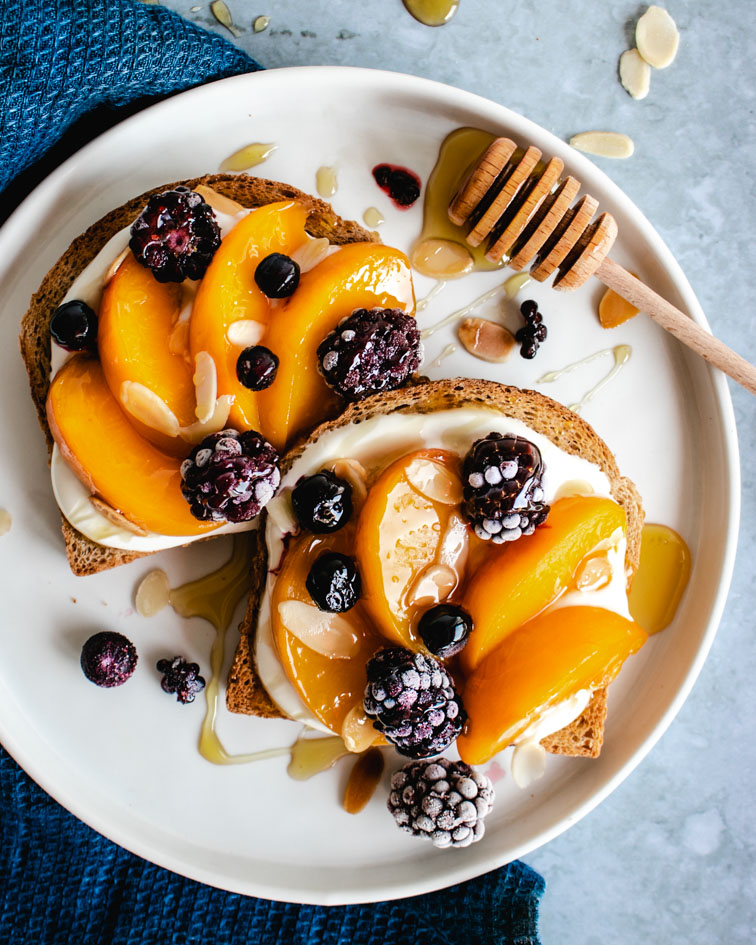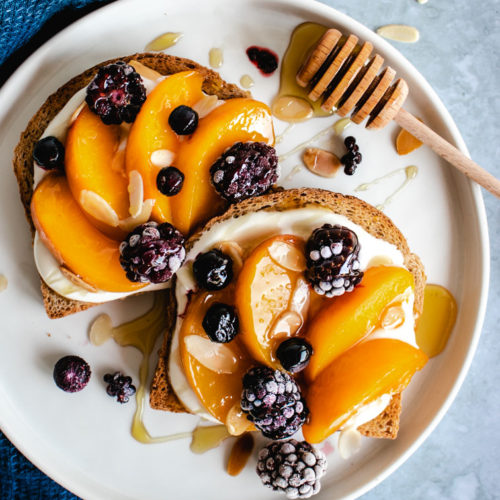 Honey Roasted Peach Toast
I love peaches when they are in season, so sweet and juicy. No need to add a lot to them, the can shine on their own. This recipe comes together easily and quickly.
Ingredients
2

peaches

1

tablespoon

honey or maple syrup and more for serving

4

tablespoon

greek yoghurt

Black berries

Slivered almonds
Instructions
Preheat the oven to 220C (425F) Place parchment paper on a baking dish with edges.

Slice the peaches in half and remove the pips. Place cut side up on the baking tray. Drizzle with honey or maple syrup and bake in the oven for about 20-25 minutes depending on the ripeness and size of your peaches.

Toast the bread, top with yoghurt and then slices of the roasted peaches, blackberries and almonds. Drizzle with a little honey or maple syrup for serving.

Enjoy!