If you are a caramel lover then this Stroopwafel Caramel Cake is for you! It's a real showstopper and perfect for upcoming mothers day.
Filled with different layers and textures of caramel. A soft and tender cake with pieces of Daelmans Stroopwafels cookies, a smooth and creamy caramel frosting, topped off with caramel sauce and more Stroopwafels.
Have you tried Stroopwafels before? They are 2 thin layers of waffles with a creamy, caramel sauce in the middle. I love to heat mine over my cup of tea so the caramel sauce melts a little, so yummy.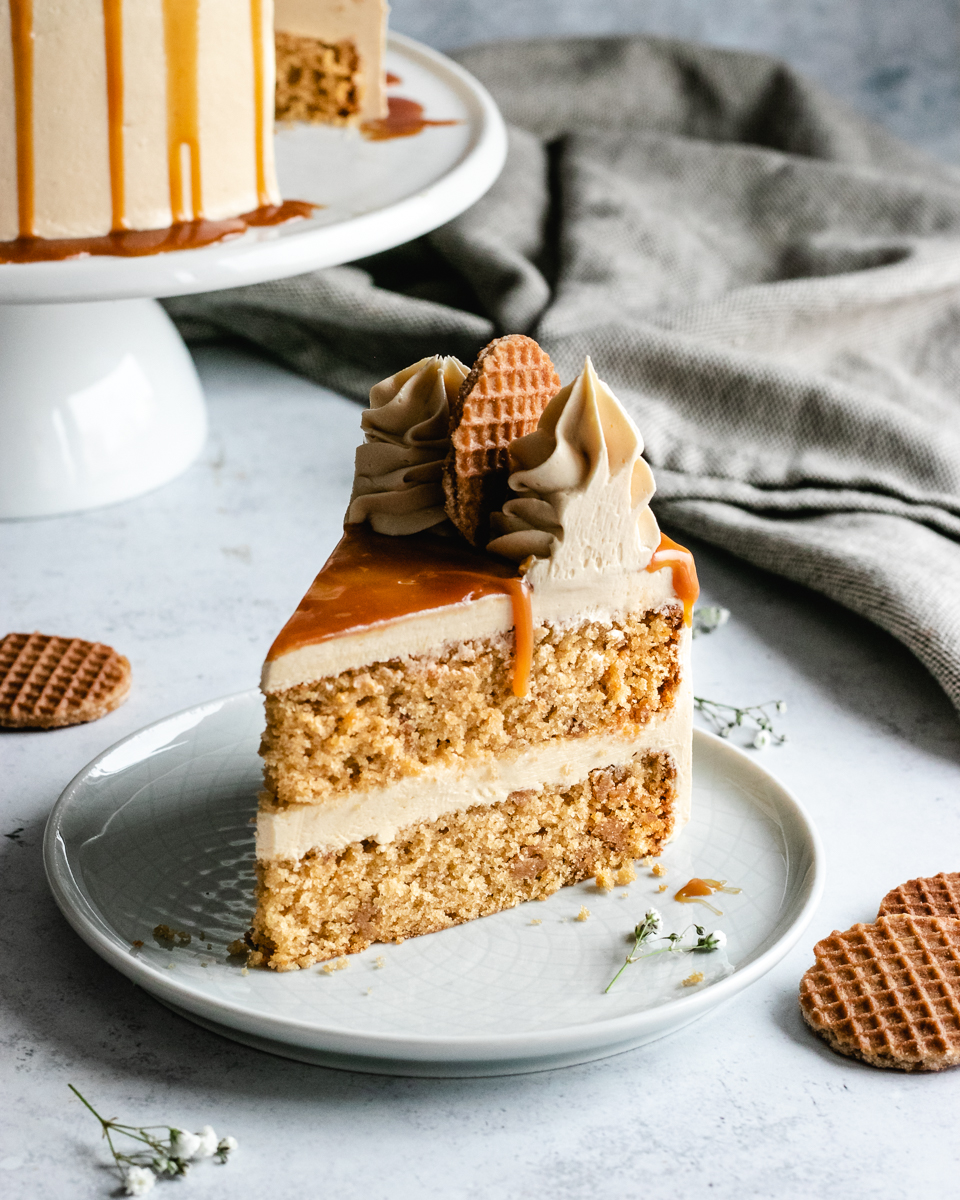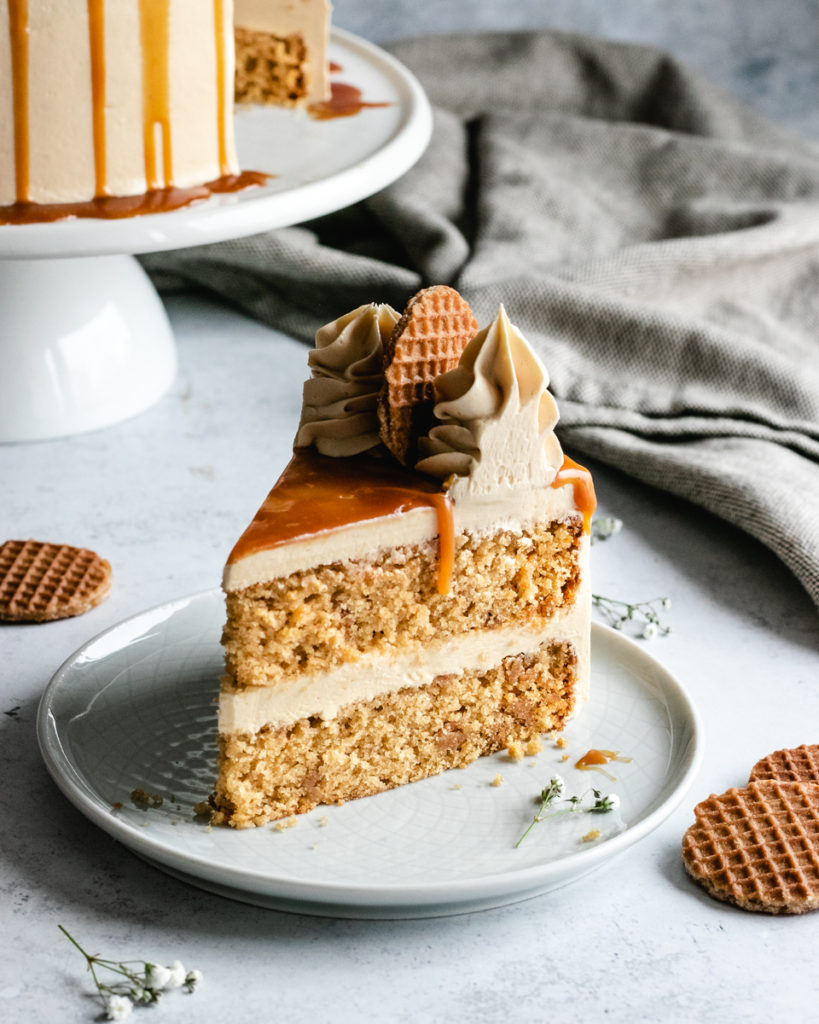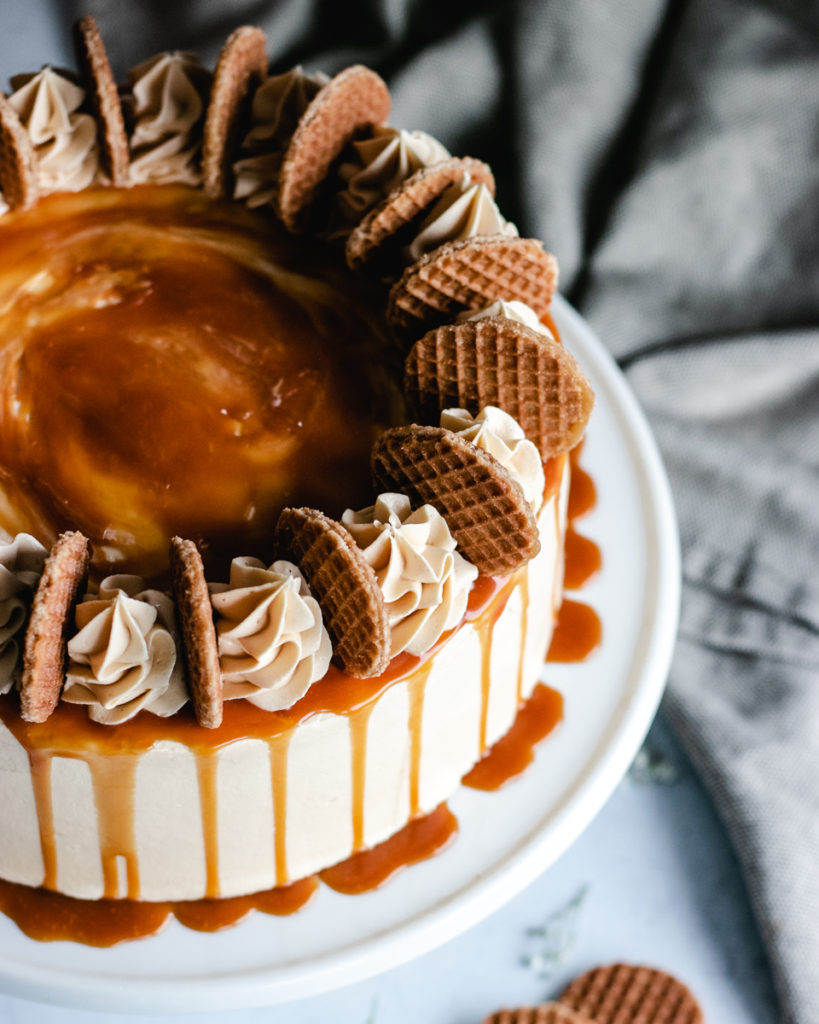 This two layered cake is enough for 10-12 servings. The cake keeps for up to 5 days in the fridge, if there's any let that is!
I also made this recipe so it can easily be cut in half for a one layer cake. Perfect for a smaller gathering or family party. Everyone is practicing social distancing so sometimes a small cake is the way to go.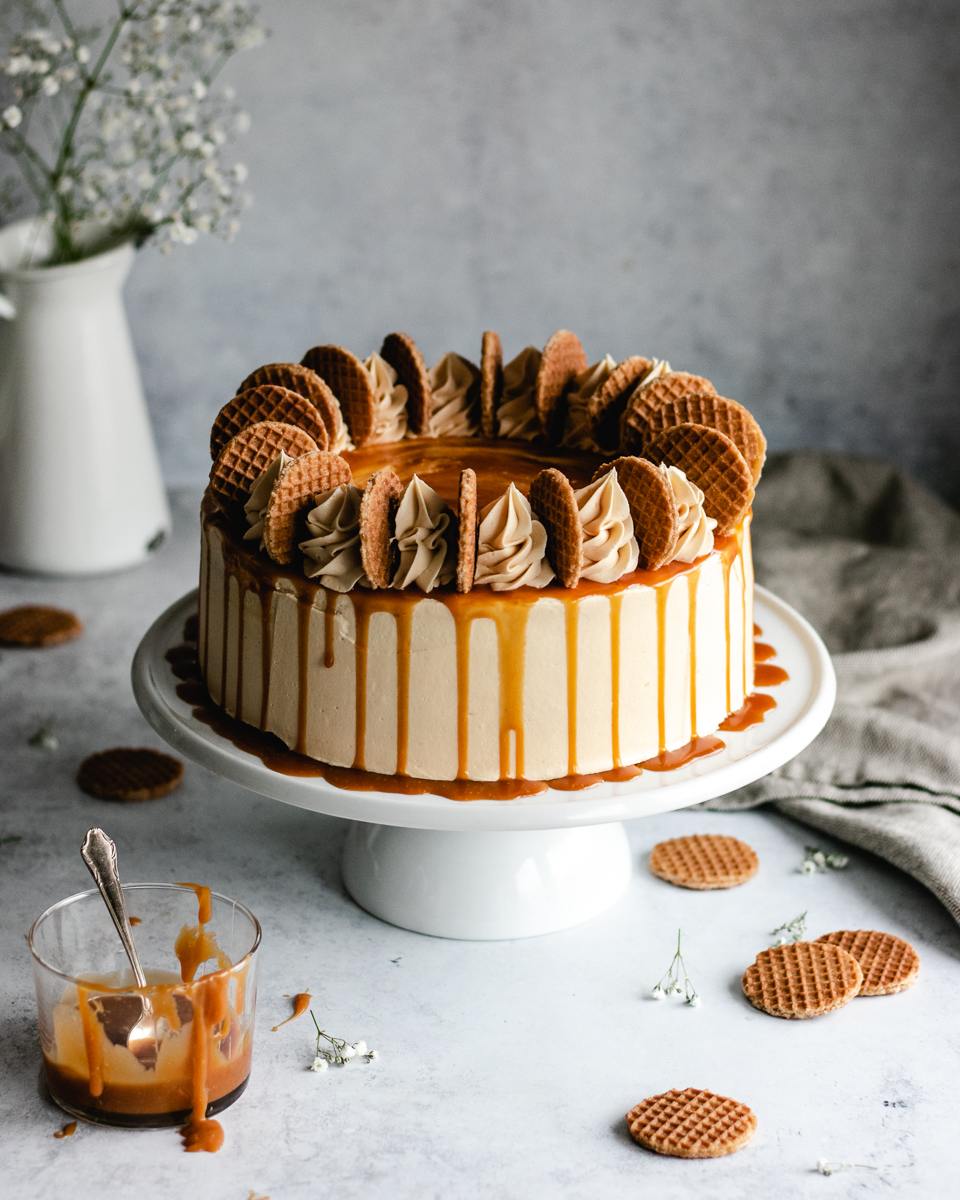 Ingredients needed for this Stroopwafel Caramel Cake:
Almond milk, my favourite milk to bake with! I always use unsweetened. You can also substitute with regular milk.
Apple cider vinegar, to make home made butter milk, also to help it rise and hold together since this cake doesn't have any eggs.
Light brown sugar, pack in into the measuring cup
Neutral oil like vegetable oil, canola oil or as I used, sunflower oil
Vanilla bean powder or vanilla bean paste. I like to use one of these two for the strongest vanilla flavour but if you don't have it, you can substitute for vanilla extract
All purpose flour, measured correctly. I highly suggest using weight when you are baking, it is way more accurate and easier to use. If you dont have a kitchen scale, measure the flour correctly by first fluffing the flour with a spoon and then pouring it into the measuring cup or spooning it. Level of the top with a knife.
1 cup (100g) almond flour, almond meal can also be used for a little courser texture
Baking powder and baking soda, a mix of the two really makes this cake light and fluffy, yet tender and moist
Pinch of sea salt or normal table salt
1 package (200g) of Daelmans Stroopwafels, you will use 4 of the cookies in the cake batter and the rest for decoration the cake. I used the small ones to decorate this cake.
For the Caramel sauce:
Sugar, normal caster sugar
Unsalted butter at room temperature cut into cubes
Heavy whipping cream, room temperature. If your sauce is a little too thick add a tablespoon more cream and stir well.
Sea salt, optional but highly recommended
For the Frosting:
Unsalted butter of good quality at room temperature
The caramel sauce you made
Powdered sugar, I say 2-3 cups because depending on how firm and sweet you like your frosting. I only used 2 cups, start with that and then add more if necessary. You can always add more but its hard to take away ones added 😉
OTHER RECIPES YOU MIGHT LIKE:
Snickers Tart (Vegan and Gluten-free)
Chocolate Granola Breakfast Tarts
Strawberry, Banana and Chocolate Oat Muffins
Healthy Strawberry crumble bars (Vegan and Gluten free)
I would love to hear from you! Let me know what you think by leaving a comment, rating, and tagging me at @thedeliciousplate in your picture on Instagram.
Happy cooking!
Stroopwafel Caramel Cake
If you are a caramel lover then this Stroopwafel Caramel Cake is for you! Filled with different layers and textures of caramel.
Ingredients
2

cups

almond milk or regular milk

2

tablespoon

apple cider vinegar

1

cup

light brown sugar

packed

⅔

cups

neutral oil

I used sunflower oil

1

teaspoon

vanilla bean powder or vanilla extract

2 ¾ cup

(340g all purpose flour

1 cup

(100g) almond flour almond flour

4

teaspoon

baking powder

1

teaspoon

baking soda

pinch of salt

1

package (200g) of Daelmans Stroopwafels
Caramel
1 Cup (200g) sugar

6 Tbsp (80g) unsalted butter

½ Cup (120ml) heavy whipping cream, room temperature

¼-1/2 tsp sea salt (optional)
Frosting
2 cup (460g) unsalted butter at room temperature

½ cup salted caramel

2-3 cups (300g)  powdered sugar
Instructions
Preheat the oven to 180C (350F) and grease 2 round 20cm (8 inches) baking pans with removable sides.

Mix the almond milk and apple cider vinegar and let it sit for about 10 minutes until it starts to curdle. Then add the oil, sugar and vanilla, stir well.

In a separate bowl, add all the flour, almond flour, baking powder and baking soda and stir. Fold in the wet ingredients until just combined. Chop 4 of the Daelmans Stroopwafels into small pieces and gently fold in.

Pour the batter into the prepared pan, smoothen out the top and bake for about 25 minutes or until the cake feels bouncy to the touch and a stick comes out clean. Let the cake cool completely before removing from the pan.
Caramel
Add the sugar to a sauce pan and heat on medium high heat. Shake the pan while the sugar melts, do not stir. You want the sugar to have an amber color without lumps. Be carful not to burn the sugar!

Take the pan off the heat and add the butter, it will bubble up a lot. Whisk well to fully combine and then put it back on the heat and add the cream. Let it boil for one minute and then take off the heat. Stir in the salt. Let the caramel cool down to room temperature, about 20 min.
Frosting
In a mixing bowl whip the butter with electric beaters until light and fluffy. Add the caramel and beat to combine. Slowly add the sugar and beat until its light and fluffy, you might not need all the sugar.
To assemble
Frost the cake with the frosting, top with leftover caramel sauce and stroopwafles.

Enjoy!