Strawberry and Cream Chia Pudding brings the taste of fresh, summer strawberries to you breakfast table. I love creamy chia pudding, my secret, adding a little of your favorite yoghurt.
Strawberry chia pudding is a really easy, make ahead breakfast for a stress free morning. Well at least in the breakfast department! 
It's healthy, filling and packed full of protein, fiber and antioxidants.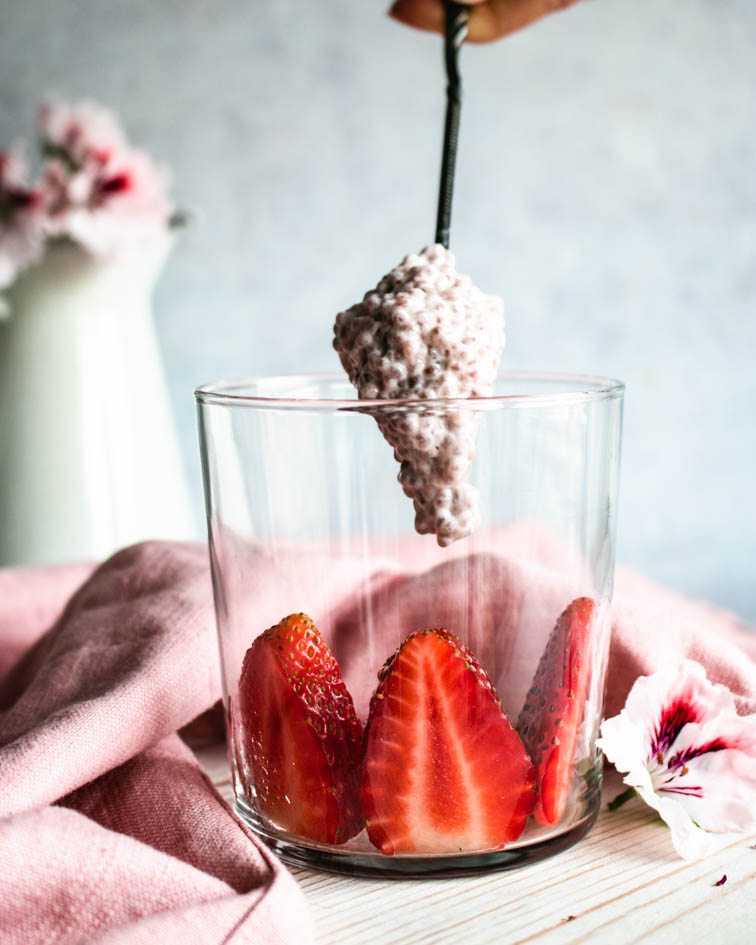 Tips for making this Strawberry Chia Pudding:
I love unsweetened almond milk and use it in most of my recipes. If you don't, substitute for any other kind of milk you want.
My secret for a really creamy chia pudding is using a little yoghurt. The thicker the better! Here I used a greek style yoghurt, coconut yoghurt also works really well.
Stir the chia seeds into the milk mixture well, and then stir again! This will prevent lumps of chia seeds forming in you chia pudding.
For best results, let the chia pudding cill out in the fridge overnight. If you are short on time, chill for a minimum of 4 hours.
Taste the chia pudding before adding maple syrup, I don't like it so sweet, sometimes I don't add any sweetener at all. I find the almond milk has a sweet flavor on its own. Agave syrup or other liquid sweetener can also be used.
For more quick and healthy chia puddings, check out this recipes:
Peanut Butter Cup Chia Pudding
Warm Chai Spiced Chia Pudding with Cinnamon Apples
Creamy Coconut and Banana Chia Pudding
Mango, Turmeric and Coconut Chia Pudding
I would love to hear from you! Let me know what you think by leaving a comment, rating, and tagging me at @thedeliciousplate in your picture on Instagram.
Enjoy!
Strawberries and Cream Chia Pudding (Vegan and Gluten-free)
Strawberries and Cream Chia Pudding brings the taste of fresh, summer strawberries to you breakfast table.
Ingredients
1 cup

almond milk

4

tablespoon

chia seeds

½ cup

coconut yogurt or other plant based yoghurt

200 g

fresh or frozen strawberries, defrosted

2

tablespoon

maple syrup

½

teaspoon

vanilla paste
Instructions
Start by mixing the chia seeds and almond milk, let sit 1 min then mix well again.

Mash the stawberries well with a fork or use a food processor or blender for a smoother result. Add the stawberries and the rest of the ingredients to the chia and milk mixture. Stir well and taste, depending on the sweetness of your strawberries, add a little more maple syrup.

Place in the fridge for at least 4 hours or preferably over night.

Top with some yoghurt and fresh stawberries.

Enjoy!